Malawi Liverpool Wellcome Program (MLW) has issued out its 2020 annual report celebrating its current successes in science and giving a snapshot of future trajectory of science.
The report presents the scientific success and achievement of each of the research groups in MLW and how the successes have translated into impact for public health in Malawi.
Announcing the release of the report, Lindiwe Bandazi Mafuleka, Communications and Public Engagement Manager for MLW said that the MLW Annual Report for 2020 is a publication that has been put together with great contribution by each of the MLW study groups. "2020 was an eventful year. Amid all that was happening we still have some things to celebrate", she said
As 2020, was the year in which the COVID-19 pandemic took center stage, MLW contributed to the national response and some of these contributions have been part of the scientific success of MLW in 2020. For instance, the viral immunology group led by Dr. Kondwani Jambo was actively involved in providing evidence on prevalence of SARS-CoV-2 in Malawi through the PROTECT Study to aid policy and national strategic prioritisation. The group also submitted a policy brief on the burden of SARSCoV-2 infection to the Government of Malawi through the COVID-19 Expert Group and the Public Health Institute of Malawi (PHIM).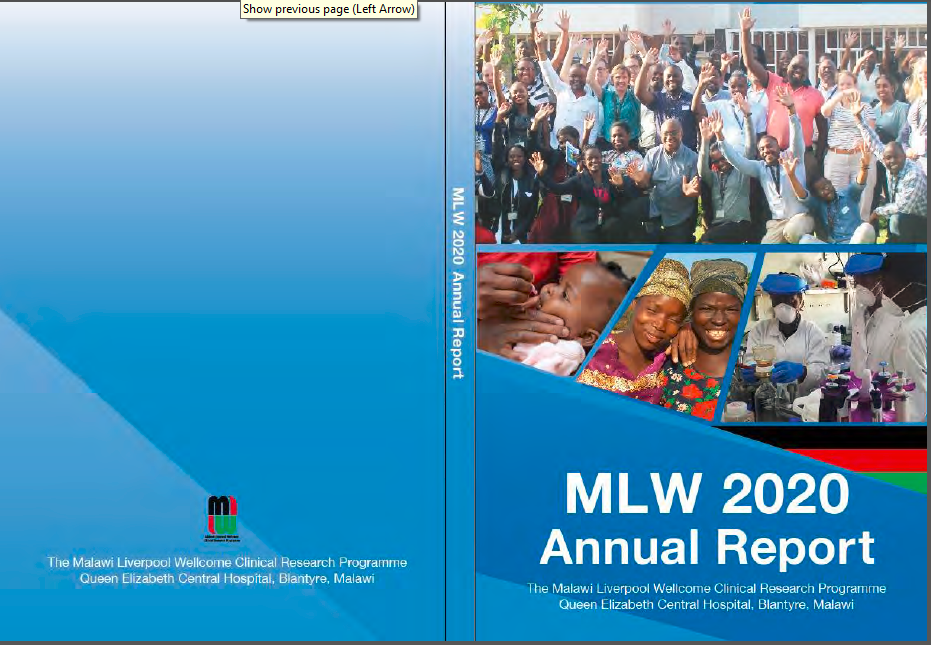 The report has also reported success in HIV and TB with the public health group reporting completion of four major randomised controlled trials that will have substantial impact on global TB and HIV policy — PROSPECT, ACT-TB, HomeACF studies, and Choko HIVST.
Program Director of MLW, Professor Stephen Gordon describes the report as a wonderful snapshot of the current success and future trajectory of MLW science. "We are delighted to launch the MLW annual report", he said.
"We would like to share it with all our members, collaborators and partners" reads the statement that the Director issued to staff when announcing the report.
For inquiries on the report please email at info.mlw.mw