After close to two years of working together, most members of the LIGHT Consortium met physically for the first time in Kampala, Uganda at the first-ever LIGHT Consortium conference meeting. The LIGHT team was hosted by Makerere Lung Institute (MLI) for a three-day meeting. All members of the Consortium including Malawi Liverpool Wellcome Trust, Makerere Lung Institute (Uganda), AFIDEP, Zankli Research Center (Nigeria), Respiratory Society of Kenya, LSTM, and LSHTM were present at this important meeting.
The conference meeting was kickstarted with presentations from the three Early Career Researchers (ECRs) first by Dr. Chukwuebuka Ugwu (Nigeria), followed by Dr. Mphatso Phiri (Malawi), and finally by Dr. Jasper Nidoi (Uganda). The three ECRs demonstrated their respective but synergistic plans to eliminate TB through a gendered approach. The conference was graced with the presence of the External Country Advisory Group (ECAG) as well as the Uganda Country Advisory Group (UCAG), two critical groups with members from WHO, Global Health, and the Uganda TB programme just to mention a few.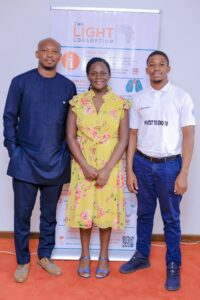 Early Career Researchers: Ebuka, Jasper, and Mphatso
Throughout the three-day conference, discussions were interactive and allowed all members to contribute. The landscape analysis presentations by all consortium partner countries revealed how much work has already been done, a revelation that was also acknowledged by Dr. Rachael Thompson, LIGHT CEO. Professor Bertie Squire, LIGHT Programme Director reiterated how crucial it is that LIGHT's impact should continue to be relevant even in 2026 when the project wraps up. Dr. Peter MacPherson, LIGHT Deputy Director expressed satisfaction with the modeling work that is being championed by Dr. Katherine Horton from LSHTM.
As the conference came to an end, the group agreed to deliver on research, research uptake, and capacity-strengthening which happen to be the three key outputs of the LIGHT Consortium Logframe. Aside from the serious business, the team also engaged in fun activities aimed at enhancing social interactions and team bonding.
The LIGHT Consortium aims to reduce TB mortality and morbidity among men, women, and children. LIGHT will implement: (1) a package of gender-sensitive interventions in Uganda's health sector, (2) gender-sensitive interventions to improve the detection of men with TB in densely populated Nigerian urban communities, (3) interventions to increase Malawian male and youth engagement with TB active case finding, and (4) research on barriers to access and successful treatment of TB infection and incidence among Kenyan male adolescents and young adults. Our study will help LIGHT by enabling and supporting the policy environment to take up these interventions at country, regional and global levels.