Lights illuminated the room. Black and silver embellishments invited the patrons in. A step into Room Soche 2 at Sunbird Mount Soche Hotel in Blantyre that night of Friday September 16, 2022, exposed one to a scent of success.
On that night, glamour and splendour coated Mount Soche as MLW took its 25th Anniversary Celebrations to another stage. MLW awarded outstanding employees and teams.  Their remarkable efforts in the past 25 years receiving the well-deserved recognition.
MLW's Interim Director Professor Henry Mwandumba took to the podium and said: "The award ceremony is in recognition of various achievements that members of staff of MLW have attained over the 25 years. This is one way of the ways of appreciating the contribution of staff to the success of MLW.
"We are an organisation that responds to the health needs Malawi and the region. Our intention is to continue working with the Government of Malawi to ensure that we do research in areas that are a priority to the government so that we may continue to contribute to the policies that improve the health of Malawians," Professor Mwandumba said.
Tiferanji Fatch Sochera, who was awarded for the exceptional growth, encouraged fellow employees to focus on the bright side of their careers for MLW's flag of excellence to be raised higher.
Sochera, who has recently been promoted to Clinical Research Quality Manager, said: "I am very happy because I did not expect to get this award; it is a surprise to me, and I thank MLW for recognising my work. I have good experience because I joined MLW as a study coordinator and I progressed to the research governance officer then administrator now I am the quality manager. I am thankful for the recognition and career progression."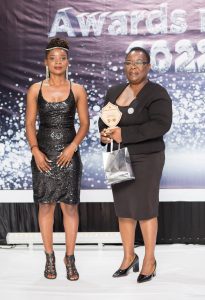 Former Director Professor Stephen Gordon received a Lifetime Achiever Award in the operations category.
Stephen Amos, MLW's Occupational Health Nurse, bagged the most creative and outstanding achievement (Excellence) awards.
Community Engagement Coordinator Elvis Moyo was decorated with the community service award and Dr. Kondwani Jambo glittered in research.