By Luke Banda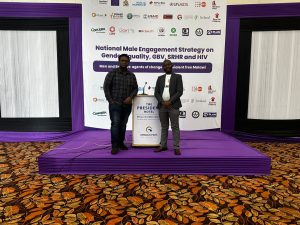 For far too long, the push towards gender equality, and related issues such as eliminating gender-based violence (GBV), has been often viewed as the primary purview of women and girls. But let's face it, true progress cannot be made without the active involvement of men and boys.
In a dynamic move, the Malawi Ministry of Gender, Community Development, and Social Welfare (MoGCDSW), in collaboration with various partners, unveiled the National Male Engagement Strategy (NMES 2023–2030) on July 12th and 13th, 2023. This is a bold step towards dismantling harmful gender norms and fostering a more inclusive society. The strategy aims at enhancing male involvement and participation to advance gender equality, eradicate GBV, and actively support programmes on sexual and reproductive health and rights (SRHR) and HIV/AIDS.
It has become common to say that Malawi excels at creating robust policies, guidelines and strategies but falls short of implementing them. There are reports of other countries supposedly seeking inspiration from Malawi's policies and benefiting from adopting them, yet we struggle to realise their full potential. The NMES, however, has instilled confidence that the MoGCDSW is committed to ending such negative stereotypes.
Active involvement of citizens across all spectrums is crucial for the successful implementation and adoption of the NMES. This resonates with the remark made by the Minister of Gender, Community Development, and Social Welfare, Honorable Jean Sendeza MP during the launch of the strategy, who emphasised the importance of conducting the deliberations in the local language, Chichewa, to ensure active participation at the event. The sentiments from the Minister made it evident that the government is committed to seeing this strategy benefiting everyone. As individuals working in the development sector, we believe that the success of this strategy depends on how well local Malawians understand, accept and implement its activities.
Inherently, the NMES is a mindset change document, and the government shows a clear commitment to work with partners and to make use of Malawi's robust community-based structures to facilitate male engagement. The launch of NMES attracted participants from all regions and diverse backgrounds, and it was fascinating to observe that all attendees, regardless of gender or age, strongly desired to contribute to the discussions. Many participants also believed the government should be the driving force behind implementing strategy, with the strong support of partners in civil society, media and private sector.
As one of the Ministry's partners, the LIGHT Consortium* remains enthusiastic about the prospects of advancing gender-responsive tuberculosis (TB) programmes in tandem with the NMES's overarching goals. TB affects men more than women because men are less likely to seek medical attention due to various gender-related factors. We strongly believe that the NMES's gender-responsive interventions will help challenge toxic masculinities and improve health-seeking behaviours among men as we strive to create a more inclusive society.
As we progress, we are optimistic that the Ministry's unwavering commitment will propel the NMES towards meaningful outcomes that resonate with every Malawian. This transformative strategy calls for collective action, wherein men and boys stand proudly as allies of women and girls, ushering in a more equitable and progressive Malawi. We stand united, prepared to offer the Ministry all the necessary support to bring about a brighter future where inclusiveness and equality prevail in all facets of life.
*The LIGHT – Leaving no-one behInd: transforming Gendered pathways to Health for TB – Consortium comprises organisations in Kenya, Malawi, Nigeria, Uganda, and the UK engaged in health research with the aim of supporting policies and practices to transform gendered pathways to health for people with TB. Malawi Liverpool Wellcome Programme (MLW) and African Institute for Development Policy (AFIDEP) lead LIGHT's work in Malawi. Luke Banda is a Senior Project Manager at MLW, and Chikondi Kadongola is a Project Officer at AFIDEP.
This op-ed was first published in The Daily Times newspaper, Malawi on August 4th, 2023.